WCRHL Board of Directors Spotlight: Brennan Edwards
WCRHL
September 21st, 2021 at 1:51PM
September 22nd, 2021 4:12AM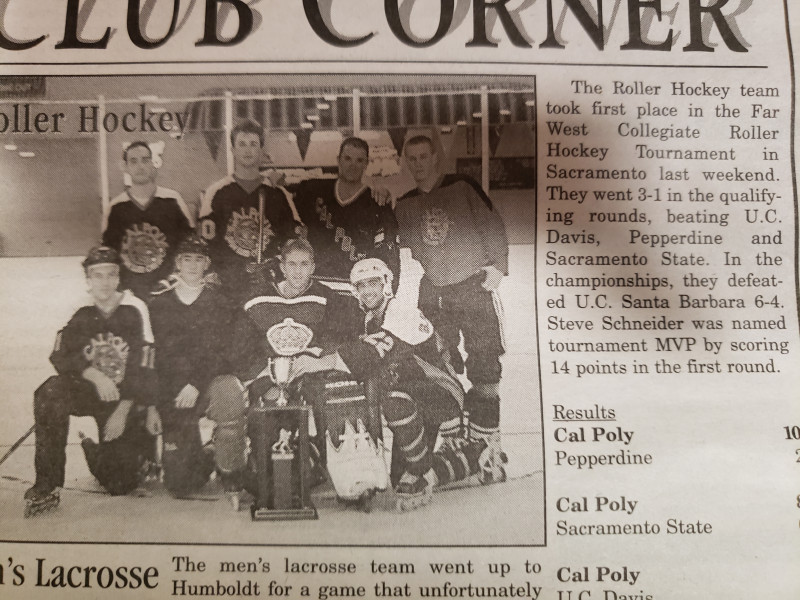 ---
Name
Brennan Edwards
WCRHL Board Position
President, 2002 to present
Hockey Background
Grew up playing roller hockey on an outdoor basketball court at the local park in California. In high school, organized cross-town games pitting my friends (West Torrance) against a friend from church's friends (Torrance High), alternating between our park's basketball court and their park's tennis court and also alternating between playing with a Mylec hockey ball (on our turf) and an Arrow puck (on their turf). Typically the team that won was on their turf and with their ball/puck.
Our large local park, Wilson Park in Torrance, opened up a roller hockey league while I was in high school and my group of friends joined the adult league, as there was no high school league, in the Intermediate Division (Silver) and promptly went 1-9 and 3-7 in our first 2 seasons.
In a campus tour of Cal Poly San Luis Obispo, I learned that the school had a roller hockey club and then immediately upon arrival in Orientation Week, I connected with the club and got involved in pickup, local league play, and basically as the 11th man on a 10 man roster. Freshman year I traveled to all the events in Southern and Northern CA as well as Las Vegas, got in a few shifts here and there, but was more than happy with that. It made sense that I was the 11th skater, as I grew up playing goaltender but was trying to play college roller as a skater. In my 2nd year of college I transitioned to goaltender where I got to play full time (unless we were short on skaters, then we'd play our backup and I'd have to play D). I played 4 years at Cal Poly, and some of my favorite moments are highlighted below.
Current Hockey
Not current playing. Over the last 3-4 years, I've filled in as friends' teams needed a goaltender, so basically every game I was exhausted and getting the feel of things, then not playing for another 6 months. Sore for days...I have officiated here and there for a while, but over the last 3-4 years I committed to officiate weekly at the same Torrance, CA rink that I grew up playing at.
Collegiate Roller Hockey Experience
Cal Poly San Luis Obispo - 1995-2000
WCRHL All-Star 1999-2000 season
CRHL Final Four finishes in 1997-1998 (Las Vegas, NV) and 1999-2000 (Ellenton, FL)
Major/Degree
Cal Poly San Luis Obispo - Bachelor of Architecture - Class of 2000
Hometown
Born and raised: Torrance, CA
Currently living: Nashville, TN
Other Interests
Watching Marvel movies and shows with my wife and 3 kids
Building Legos with my son
Prior to COVID, Disneyland Annual Passholder family (since 2000)
Exploring our new state of Tennessee
Favorite Collegiate Roller Hockey Moments
All of the travel with teammates in my 4 years of collegiate roller hockey
Pretty much every collegiate roller hockey game against archrival UC Santa Barbara
1997 or 1998 Collegiate Roller Hockey Season - going into shootouts against El Camino College (a powerhouse) and stopping some of the top players from my home rink
2000 Collegiate Roller Hockey League National Championships - Ellenton, FL - Final Four Finish - huge win against UCSB in Elite Eight, and 1-goal loss to Colorado State in the Final Four