Hockey Job Opportunities
This section of the website will host hockey job opportunities, that come available from time to time. Please email [email protected] if you need more information or have a job opportunity that you would like to post.
*All job postings and information in their attachments are not sponsored/vetted by the NCRHA. It is the responsibility of all applicants to do their own research, making sure the job opportunity is legitimate.
NCRHA Conference Internship Program
Several NCRHA Conferences (ie. ECRHA, GPCIHL, MCRHL, RMCRHA, SCHL, SECRHL, WCRHL) offer unpaid internships for qualifying students. Email [email protected] for more information about internships.
Summer 2022 - Roller Hockey Department Head/Coach - Camp Greylock
Camp Greylock, located in Becket, Massachusetts and one of the nation's oldest and most prestigious private residential summer camps, seeks a Summer 2022 department head for our Roller Hockey program. Applicants should have a hockey coaching background. Dates of camp are 6/20/22 through 8/14/22, with some flexibility if there are conflicts with your fall teaching/coaching schedules. We seek a fun, upbeat, mature coach who loves kids to teach basic hockey skills to our campers and to manage a staff of five others. Professional housing, good work hours and environment, with laundry and room & board included. This is a great opportunity for a memorable and worthwhile summer experience. Position pays around $1,000 US per week, depending upon experience and background. Please send a cover letter and resume to [email protected].
Summer 2022 - Roller Hockey Coach - Camp Chipinaw
Camp Chipinaw & Silver Lake are looking for energetic roller hockey instructors for Summer 2021! Located in the Catskill Mountains of New York State, Chipinaw and Silver Lake offers campers a summer filled with sports, arts, and adventure.
We are searching for dedicated students or coaches who want to pass on the their love of roller hockey to our campers. College students can get the opportunity to do a paid summer internship in the camping and sports world. Our roller hockey instructors will be out on the rink 5 periods a day working with campers ages 7-16.
Full room and board is provided, as well as a competitive salary and travel stipend. Dates needed: 6/15/22 - 8/14/22. If interested please apply online at www.chipinaw.com or email [email protected] for more information.
Check out our quick hype video to learn more about camp: Chipinaw & Silver Lake Hype Video
Summer 2021 - Roller Hockey Coach - Camp Canadensis
This summer, get paid to be a MATURE GOOFBALL! Join our team of motivated staff and enjoy the perfect balance of work and fun. Located in the Pocono Mountains of PA, we are a co-ed sleep away camp for kids ages 7 to 16. We are looking for enthusiastic and creative individuals to work as a Roller Hockey Coach.
All positions include Housing, Salary, Food/Meals, and Laundry.
2021 dates: June 16th to August 14th
*Paid internships to fulfill academic requirements are encouraged.*
Role & Responsibilities
College-aged counselors live in the bunks with the campers. A typical bunk will have 8-12 campers and 3-4 counselors.
All counselors share in-bunk responsibilities from wake up to clean up to attendance at meals and evening activities.
During the activity day, Activity Specialists will be at their program area, teaching a specific activity to a wide range of campers. When not teaching activities, Specialists are scheduled back with their respective bunk of campers.
There is scheduled time off each day and days off throughout the course of the summer.
3 Reasons to Make Camp Canadensis Your Summer Job
(1) Build leadership, communication, and problem-solving skills while making lifelong friendships. Serve as a mentor, role model, and hero to our campers.
(2) Your office? 1,000 acres of beautiful outdoors, including a 75-acre private lake! Your uniform? Shorts and T-shirts! Your co-workers? Passionate young adults like you, looking to have the best summer ever!
(3) Get paid to be a MATURE GOOFBALL. Play and have fun all summer while gaining professional experiences and developing skills that are universally in demand, regardless of your career path.
Applicants can apply here: https://canadensis.campintouch.com/ui/forms/application/staff/App
Summer 2021 - Roller Hockey and Ice Hockey Activity Specialists - Camp Starlight
Imagine Spending Your Summer as a Camp Counselor at Camp Starlight!
Question: How do you know if you're a perfect fit for Camp Starlight?
Answers: You have a strong desire to master the art of making a s'more. You hope to share your newfound skills of "s'moreology"(tm) with a group of kids, helping them create their own gooey gastronomics around a crackling campfire. You also love hockey and want to spend a summer outside, in the mountains on the rink.
What is Camp Starlight?
Camp Starlight is a co-ed traditional sleep-away camp in the beautiful Endless Mountains of Northeast Pennsylvania, (2 1/2 hours outside NYC). We have state-of-the-art facilities! Grab your sunscreen and your favorite pair of sunglasses and soar through our camp by taking our one-of-a-kind aerial tour. Camp Starlight Aerial Tour
Are YOU who we are looking for?
Do you have a positive attitude and a genuine enthusiasm for working with children? Are you patient, flexible and ready and willing to wrestle in pudding or put on a tutu? Do you have experience working with children whether babysitting, coaching, siblings, or through your degree program? If so, Camp Starlight is the perfect fit for you!
Roller Hockey and Hockey Activity Specialists!
All of Camp Starlight's counselors live in the bunk with our campers and take care of them 24/7. During the 6 period activity day, Roller Hockey and Ice Hockey Specialists will spend the majority of those periods teaching roller hockey and ice hockey. The remainder of the day you will be with your bunk of kids! As an Activity Specialist, you will share your passion and interest in a particular activity area teaching, coaching and mentoring campers. Check out some of our great activities at Camp Starlight:
What are the benefits?
We offer a competitive salary, provide housing and all meals as well as laundry service. Since everything is included, what a great opportunity to save on summer expenses!
What about Paid Internships?
You got it! Under the guidance of our new Internship Coordinator with past experience in the academic advising field we work one on one with you alongside your college advisor to help you develop an amazing internship just for you, without the shirt and tie! You could not ask for a better resume builder!
The employment dates are from Saturday, June 18th until Sunday, August 15th, 2021. Apply here at Exciting Opportunities at Camp Starlight! Questions? Check out our mobile-friendly website at www.campstarlight.com or email [email protected] to introduce yourself and schedule your Zoom or Skype interview!
Summer 2021 - Roller Hockey Counselors - Camp Weequahic
Camp Weequahic is a private co-ed summer camp in Northeast Pennsylvania, looking for counselors to lead our roller hockey program this summer. This position is for someone who will love living in a bunk with campers and enjoy spending time with our other staff members, who are from all over the world.
Our dates for this summer are June 11- August 9, and our first year counselors typically make $1700 salary plus a $300 travel stipend, along with room and board.
Please check out our short video and our website at www.weequahic.com, where you can fill out our online application. For questions or if you have an interest, please feel free to call or email James, our staffing coordinator at [email protected], or check our Facebook page dedicated to our 2021 staff.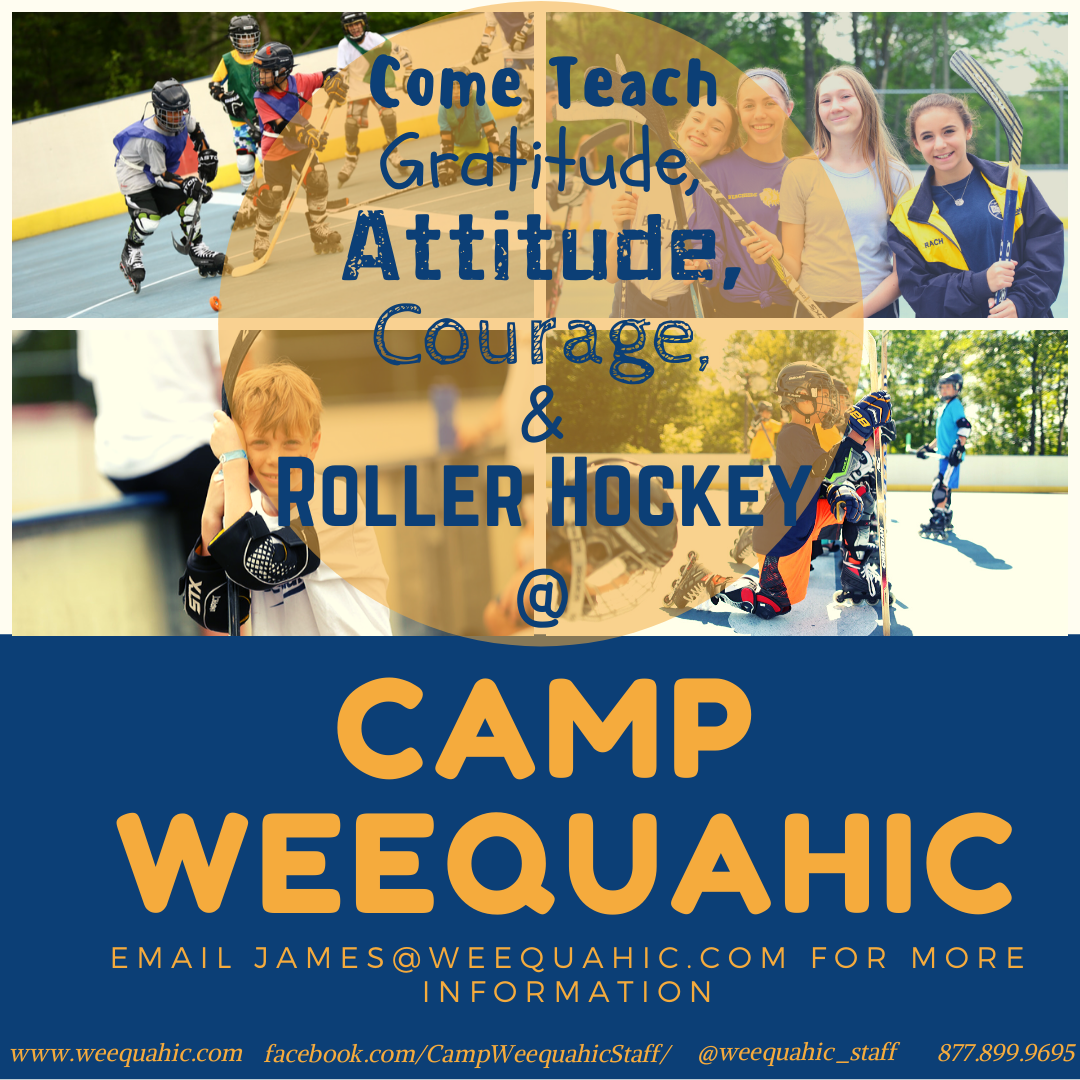 Summer 2020 - Roller Hockey Coach - Camp Towanda
Looking for a great summer job? Camp Towanda in Northeast PA is hiring roller/street hockey instructors to teach daily to our campers, boys and girls, ages 7-17. Live and work on site. Housing, meals, laundry provided. This is our 98th year! We hire over 250 staff from all across the country to be counselors and instructors in all land and water sports. This is a great opportunity for developing professionals to get coaching experience with a wide variety of ages and abilities. We participate in inter-camp leagues, including county-wide tournaments with other camps. Check out our website for more info about our program! Watch our highlight videos and see why working at Camp Towanda is the best summer experience you will ever have. We also have paid internships available in sports management and other areas!
Email [email protected] for more information or call 570-253-3266. I happy to answer all of your questions.
Job Requirements:
Available mid-June thru mid-August.
Completed at least one year of college
Qualified references
Great with children
Benefits of Interning at Camp Towanda:
Individually tailored experience to meet your goals, so that you get the most out of your job or internship.
Hands on program, working directly in your discipline.
Real world work experience in the outdoors vs. an office or corporate setting, getting coffee or pushing papers.
Work with a diverse team from around the world, impacting and inspiring today's youth.
Work on the set of the movie "Wet Hot American Summer". Yup, it was filmed here!
Join a vast network of Staff, Alumni and Parents that can connect you with future endeavors.
Housing, meals, laundry, entertainment provided.
When you work at Camp Towanda, it's so much more than a summer job- it's a family, network and community that will change your life forever.
---
*All job postings and information in their attachments are not sponsored/vetted by the NCRHA. It is the responsibility of all applicants to do their own research, making sure the job opportunity is legitimate.