NCRHA Matchups of the Week - January 21-22, 2023
January 20th, 2023 at 5:18PM
January 26th, 2023 5:53PM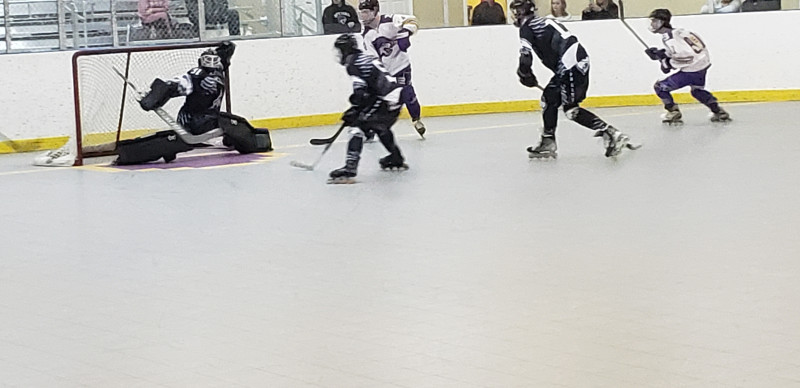 ---
The ECRHA event in Mt. Pleasant, PA is the lone NCRHA event this weekend. This 40 game schedule hosts a good majority of ECRHA teams plus visiting teams Bethel, Lindenwood, Ohio State, Florida Gulf Coast, Henry Ford College, Lindenwood AA Gold, and Ohio State AA.
NCRHA Division I Matchup of the Week
Lindenwood vs. Slippery Rock
Saturday, January 21 – 10am and Sunday, January 22 – 10am
Season Head to Head: 0-0, teams have not yet met
Lindenwood is currently undefeated in MCRHL play, sitting at 7-0 after events in St. Louis, MO and Huntingdon, TN. The Lions have outscored opponents 62-5 in those 7 games, and are led by Connor Bradley (19 points), Nicholas DellaMorte (18 points), Christian Acosta (17 points) and Nathan Durrans (15 points). Goaltender Jacob Robinson boasts a 0.83 GAA, unheard of in roller hockey.
Slippery Rock also sit at the top of their conference's DI standings, with a 7-1 record heading into this weekend's event. Their lone loss is a forfeit loss against Rowan in November. The Pride have the top 2 DI scorers in the country, Ian Edwards and Dylan Zelonka, each with 25 points. Goaltender Logan Johnson's GAA of 2.14 has him top 5 in the nation.
Last season Lindenwood went 4-0 against Slippery Rock, twice in the regular season, and twice en route to their Division I Championship. The teams will face each other twice this weekend. Stay tuned to ncrha.org throughout the weekend to stay up on the scores!
NCRHA Division II Matchup of the Week
Penn State vs. Stony Brook
Saturday, January 21 – 8am
Season Head to Head: 1-1, Penn State defeated Stony Brook 7-6 in a shootout on Nov 5 and Stony Brook defeated Penn State 5-3 on Nov 19
Penn State and Stony Brook face each other in the 8am game on Saturday, and this will be the 3rd time the teams have squared off this season. Back in November the teams traded wins, with Penn State's being a shootout win.
Penn State currently sits in 3rd place in the ECRHA Division II standings, with Stony Brook in 5th, just 3 points behind with 1 game in hand. Penn State's main job will be shutting down Stony Brook's Anthony Cicchetti, who has 23 goals and 11 assists in 10 games, 3rd in the ECRHA Division II scoring. Cicchetti had 4 goals and 3 assists in the 2 games against Penn State in November. Penn State's weapons are Ryan Puskar (12 goals, 10 assists) and Joseph Zukowski (12 goals, 8 assists). Zukowski scored a hat trick against Stony Brook in the 7-6 shootout win earlier this season.
NCRHA Division III Matchup of the Week
Florida Gulf Coast vs. Hofstra
Saturday, January 21 – 5pm and 9pm
Season Head to Head: 0-0, teams have not yet met this season
This should be a fun doubleheader, as these 2 teams have not met in several years. Hofstra sits in 4th place in the ECRHA Division III standings, with a record of 8-2. Florida Gulf Coast currently sits in last place in the SECRHL Division III standings, with a 2-3 record and yet to play a 2nd semester game.
Hofstra boasts the top 2 nationwide Division III scorers, Britt Bischoff (48 goals, 15 assists) and Collin Ewald (27 goals, 25 assists). Hofstra has scored double digit goals in 5 of their 10 games, 8 goals in their other 3 wins, and 4 goals in each of their 2 losses. They have also given up a good amount of goals. Hofstra also faces RIT and Montclair State for the 2nd time this season. In those 2 wins, Hofstra did give up 9 and 8 goals respectively.
Florida Gulf Coast's 2 wins are against UT Chattanooga and Tampa's AA squad. After this weekend's event, the Eagles will travel to Manchester, MO to face off against MCRHL opponents Maryville, Illinois State, Missouri S&T and SCHL's Louisiana Tech. Gotta love Gulf Coast getting out there to play all these out of conference opponents!
NCRHA Division AA Matchup of the Week
Farmingdale vs. Lindenwood Gold
Saturday January 21 – 3pm and Sunday January 22 – 8am
Season Head to Head: 0-0, teams have not yet met this season
Farmingdale is undefeated. Lindenwood Gold is undefeated in regulation. This should make out to be an outstanding set of games this weekend. Farmingdale's schedule includes 100% AA opponents, not to be taken lightly, and they are perfect so far this regular season. They have had their tests though, with 1 goal wins against UMass, Slippery Rock and Stony Brook. Lindenwood Gold, on the other hand, has played AA, D1, D2, and JC opponents. Their only loss, a 3-2 overtime loss, was against Bethel back in November. Lindenwood Gold is unbeaten in AA play, defeating Bethel 4 times, and Michigan State as well.
What to watch for: Lindenwood Gold's Matt Acosta, Andrew DeCiantis and Cameron Rodriguez. Both LU Gold goaltenders are beyond solid. Farmingdale's Vincent DiGiovanna and goaltender Nicholas Valentine.
If this is the only time these 2 teams meet this regular season, they will undoubtedly be seeing each other come Nationals in April!
NCRHA Cross-Divisional Matchup of the Week
Farmingdale vs. Henry Ford College
Saturday January 21 – 10pm
Season Head to Head: 0-0, teams have not yet met this season
Farmingdale, 4-4 on the season, and Henry Ford, 5-4 on the season, look on paper to be middle of the pack teams. But their schedules are 2 of the most difficult in the nation. Henry Ford, in their 9 games played, has played 3 D1 games, 4 D2 games, and 1 AA game. They are undefeated against D2 and AA teams, and 0-3 against D1 teams. They hope to change that last part this weekend, and with games against Bethel and Farmingdale, they have 2 chances to do so. Farmingdale similarly is undefeated against D2 opponents, but is 0-4 against D1 opponents. 2 of those 4 losses were 3 goal games, so not out of range for them. Farmingdale has an extremely difficult schedule this weekend with 5 games, 2 against ECRHA rivals Slippery Rock and Rowan, then 3 games against MCRHL visiting teams Bethel, Lindenwood and Henry Ford.
Farmingdale has not had their full roster in all 8 of their games – their leading scorer Matthew Hawkins has only played 2 games yet has 6 goals and 2 assists. Likewise Sean O'Donnell and Luciano Signoretti have 3+ points per game. Henry Ford has added some power over the semester break, but on paper so far it is Dustin Foran with 17 goals and 17 assists in 9 games, Tyler Blaszkowski with 7 goals and 19 assists, and Dylan Pattenaude with 12 goals and 3 assists in just 4 games. And don't forget Carter Pattenaude in net, with a 2.50 GAA against some very challenging teams. This should be a great game, plus every other game this weekend featuring these 2 teams!