Cal Poly San Luis Obispo - 2019-2020 WCRHL Division II Champion!
WCRHL
March 25th, 2020 at 10:29PM
March 26th, 2020 4:06AM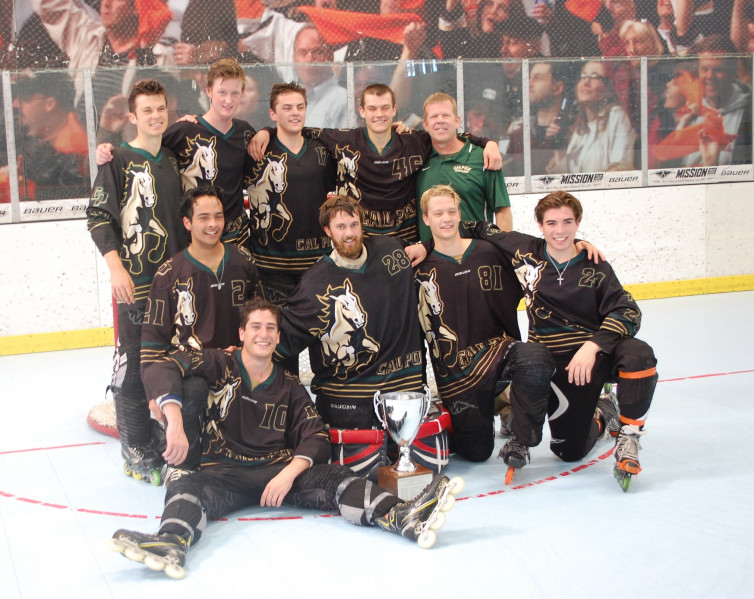 ---
Cal Poly San Luis Obispo is your WCRHL 2020 Division II Champion! Cal Poly defeated Chico State by a score of 4-3 in the Division II Championship Game.
The regular season saw 4 talented teams in Division II, facing off against each other all season, as well as against Division I teams. Cal Poly was the #1 seed coming into WCRHL Conference Championships with a 13-3 record, followed closely by #2 Chico State at 10-3-3 and #3 Northern Arizona at 10-5-1. A tough start for #4 Grand Canyon in their first season, being unable to field a team for the WCRHL Conference Championships, left 3 teams to battle it out. Cal Poly, Chico State and Northern Arizona all played in a 4 game round robin (2 games against each opponent on Saturday), with the 2 top teams facing off again on Sunday morning for the championship.
Round robin results had Cal Poly and Chico State both with 2 wins and 1 loss, while Northern Arizona had 1 win and 3 losses, earning Cal Poly and Chico State both a spot in the championship game.
The Division II Championship Game was a great battle between these 2 rivals. Shots were dead even over the course of the game, 17 to 17. The 1st period saw Cal Poly take a 2-0 lead, both on power play goals from Joe Blakewell and Nathan Katzaroff. Chico State's Brandon Delgadillo would score with 3 minutes to go in the 1st, cutting the lead to 1. Cal Poly notched the only 2 goals in the 2nd period, increasing their lead to 4-1 heading into the 3rd. The Chico State Wildcats were not going to lie down and scored 2 goals in the 3rd, one just 4 minutes in on the power play, scored by Christopher Fisher, and the final tally with just over 5 minutes left in the game by Chico's William Robinson. The last few minutes saw the Chico State goaltender pulled for the extra attacker and enormous pressure put on by the Wildcats and equally great defense and goaltending from the Mustangs to hold on for the 4-3 win.
In the end it was 4 different goal scorers for the Mustangs in the win. Cal Poly's Joe Blakewell earned Division II Most Valuable Player, with 1 goal and 3 assists in the championship game.
The Division II Championship Game and select round robin games were broadcast live on NCRHA TV and can be viewed on demand. Go to www.ncrha.tv or search NCRHA on your Smart TV!