Cal Poly Pomona - 2019-2020 WCRHL Division III Champion!
WCRHL
March 25th, 2020 at 10:52PM
March 27th, 2020 3:34AM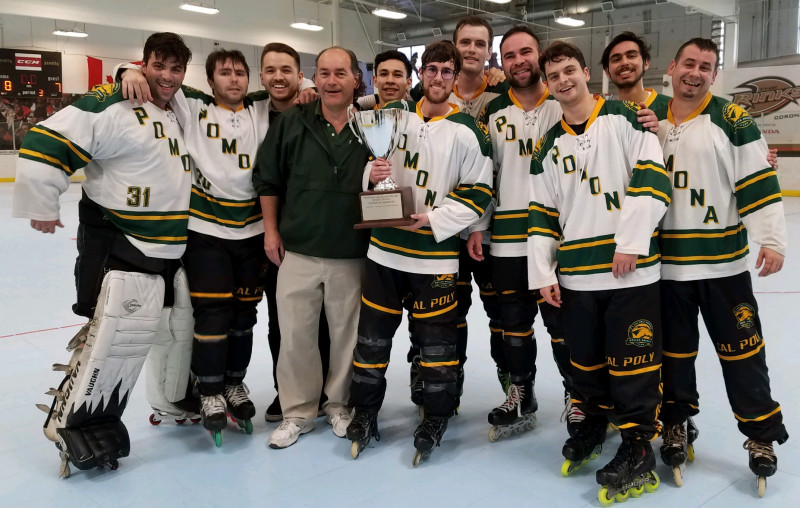 ---
Cal Poly Pomona is your WCRHL 2020 Division III Champion! Cal Poly Pomona defeated San Jose State by a score of 8-7 in the championship game.
An impressive season by Cal Poly Pomona, finishing at 11-4-1, just 1 point ahead of 2nd place University of Arizona. 3 of the losses came against Division II or Junior College opponents. And a similar story for University of Arizona. In the regular season, Derick Rosas, converted from forward to defense for this season, led the team in scoring from the back with 24 goals and 44 assists. Nathan Jimenez scored 24 goals as well, followed by 5 other players with double digit goals.
The Division III round robin featured Cal Poly Pomona, University of Arizona, UCLA, and San Jose State. Cal Poly Pomona dominated play, scoring 10 goals in each round robin game. San Jose State was right behind them, not in lighting the lamp but in winning the games they needed to win, even taking Cal Poly Pomona to overtime in round robin. It was no surprise that both teams won their semifinal matches on Saturday evening, setting up a rematch of that 10-9 round robin overtime game for the Division III Championship Game.
In the Division III Championship Game, Pomona's Bryan Bagnoli struck first, just over 1 minute in. San Jose State fought back scoring 2 goals in the middle of the period and 2 more goals in the first half of the 2nd period. It was looking good for the Spartans, sitting on that 4-1 lead. But the Broncos were not going down without a fight, adding 2 goals late in the 2nd period, to cut the lead to 1 heading into the 3rd period. The teams traded goals in the first 3 minutes of the 3rd, with San Jose State keeping a lead for the majority. 3 Pomona goals on the same shift (2 from William Lade-Miller and 1 from Bryan Bagnoli) gave the Broncos a 76 lead with 8:45 left in the game. Almost 7 minutes went by scoreless, until San Jose State's Ryan Lothman scored with 1:50 remaining, making it a tie game at 7-7. Then with just 51 seconds remaining in the game, Pomona's Bagnoli had a point blank chance stopped by the San Jose State goaltender, but just seconds later would get a shot-pass from teammate Derick Rosas, making a great tip past the goaltender for what would be the game winning and championship winning goal, an 8-7 win for the Cal Poly Pomona Broncos.
Cal Poly Pomona's Bryan Bagnoli earned Division III Most Valuable Player, with 4 goal and 2 assists in the championship game. Teammate William Lade-Miller scored 3 goals and 1 assist, while San Jose State's Ryan Lothman scored 3 goals and 1 assist as well.
The Division III Championship Game was broadcast live on NCRHA TV and can be viewed on demand. Go to www.ncrha.tv or search NCRHA on your Smart TV!