Arizona State University - 2019-2020 WCRHL Division I Champion!
WCRHL
March 24th, 2020 at 11:26PM
March 25th, 2020 4:28AM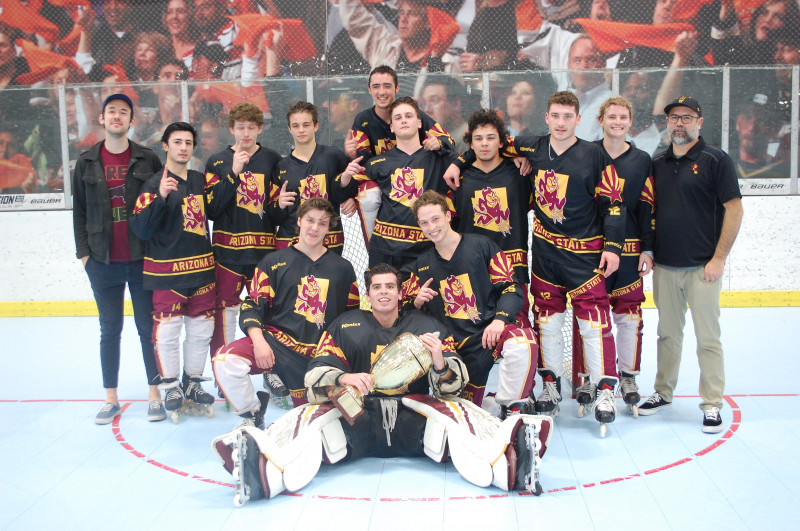 ---
Arizona State University is your WCRHL 2020 Division I Champion! ASU defeated CSU Fullerton 2 games to none in the best-of-3 series.
Arizona State's regular season record of 15-1 was nothing short of stellar. Their only blemish is a loss to Cal Poly SLO in the first event of the season, a 1-0 chess match of a game between 2 very talented teams. Arizona State played all WCRHL competition this season, as their scheduled trip to Chicago for the MCRHL Inter-Conference Event was cancelled due to a storm in Chicago.
At the WCRHL Conference Championships, Arizona State would face CSU Fullerton in a best-of-3 series, Saturday afternoon and evening. In Game 1, ASU got on the board first, just under 5 minutes into the game on a goal from Logan Corrigan. CSU Fullerton would tie it up just over 1 minute later on a goal from James Maloney. CSU Fullerton would strike 3:32 into the 2nd period to take a 2-1 lead, on a goal by Dylan Kammer. However, just like in the first period, a goal just over 1 minute later would tie the game, ASU's Corrigan scoring his 2nd goal of the game. The 3rd period saw CSU Fullerton take a 3-2 lead just 48 seconds into the period, again by Kammer. However, 3 unanswered Arizona State goals (the final one an empty netter) gave Arizona State the 5-3 win. ASU's Logan Corrigan scored 3 goals in the win, followed by Blake Tallas with 2 goals, and CSU Fullerton's Dylan Kammer with 2 goals and 1 assist.
In Game 2, Arizona State came out fast, notching 2 goals in the 3rd minute of the game, and taking a 2-0 lead into the 2nd period while outshooting CSU Fullerton 7-3. The shots were evened up in the 2nd, with CSU Fullerton outshooting ASU 7-3, but each team scoring 1 goal a piece. Play really opened up in the 3rd period, as CSU Fullerton knew that they needed to take some chances to try to overcome their 2 goal deficit. Shots in the 3rd were ASU 11, CSUF 6, and it was 3 straight Arizona State goals that took the Sun Devils to a 6-1 victory and the 2019-2020 WCRHL Division I Championship. It was a team effort on both sides, with 9 Arizona State players scoring a goal or assist in the game.
Arizona State's Logan Corrigan earned Division I Most Valuable Player, netting 3 goals in game 1 and 1 more in game 2. Blake Tallas had 3 goals and goaltender Aaron Gittings stopped 31 of 34 shots in the series.
Both games were broadcast live on NCRHA TV and can be viewed on demand. Go to www.ncrha.tv or search NCRHA on your Smart TV!