2nd Semester Approaches: Spotlight on CSU Fullerton D4
WCRHL to post Spotlight Articles on each team leading up to their 1st event of the 2nd semester
WCRHL
January 10th, 2020 at 11:14AM
January 10th, 2020 5:15PM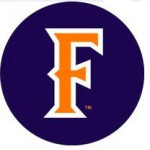 ---
The CSU Fullerton D4 squad has already won as many games as they did last season, in half the time. They currently sit in 3rd place with 10 points, just 2 points behind Arizona State and Cal Poly Gold. U of A is in 4th with 6 points but 2 less games played. Big wins include a 10-7 win against U of A and a 5-4 win against NAU.
The Titans are led by Cade Gunstream (3 G, 7 A) and Aaron Garcia (7 G, 3 A), and are followed closely by several other teammates. Together they have put up 38 goals in 8 games (4.75 goals per game). Zachary Grego has been in net for every game this season and has 5 wins and a 80% Save Percentage.
This coming weekend in Corona, CA the Titans will player Cal Poly Gold twice, Cal Poly Green and Nevada (D3). They will then finish up their regular season on Feb. 15-16 in Huntington Beach, CA.