2nd Semester Approaches: Spotlight on Cal Poly Pomona D4
WCRHL to post Spotlight Articles on each team leading up to their 1st event of the 2nd semester
WCRHL
January 10th, 2020 at 11:13AM
January 10th, 2020 5:16PM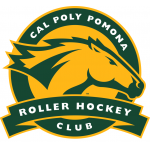 ---
The Cal Poly Pomona Division IV team has already won as many games as their entire 18-19 season, at this, just the halfway point in the season. Both were big wins against Cal Poly Green. In addition, they have played tough against every single opponent. 3 of the other losses were by 2 or 3 goals, so the Broncos are gaining confidence and are in every game that they play.
In the first half, this large bench has 7 players with 5 points or more. Nikkolas Salazar (9 points), Alvar Kaskla (8 points) and Micah Patton (8 points) are the top 3 in scoring for the team. Slade Suzuki has played the majority of the games in net for the Broncos and has an 83.1% Save Percentage.
They'll play 2 games this weekend in Corona, CA against Cal Poly Green and Nevada. If they can pick up 2 wins, they'll head into the Feb. 1-2 Queen Creek, AZ event in a good place, as they will face all 3 D4 teams from Arizona. They'll ultimately end their regular season in Huntington Beach, CA on Feb. 15-16.