Views From The Rink (Day 1 Recap)
By Ian Prescott of NCRHA Coast to Coast
April 6th, 2017 at 11:32AM
April 6th, 2017 10:37PM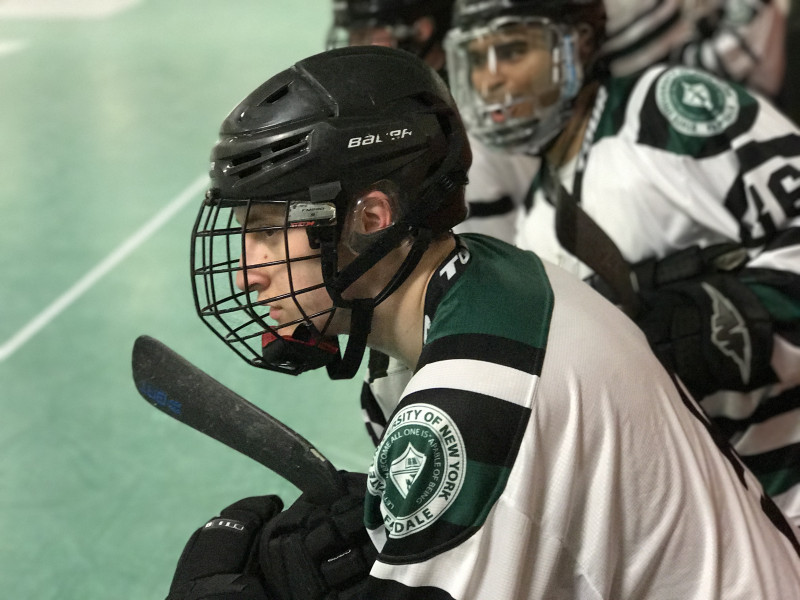 ---
By Ian Prescott of NCRHA Coast to Coast
The sun has risen and set on the first day of pool play. The National Collegiate Roller Hockey Championships are 5 days of non-stop action. Teams have travelled from coast to coast to compete across four divisions all in search of a illustrious (and often elusive) National Championship. Wednesday saw the start of both Divisions I and II, with games starting at 7:00 AM Wednesday, and wrapping up at about 12:15 AM Thursday morning. With all that said, here are some observations and thoughts about the first day of games across the both divisions:
Division II:
Yeshiva University Macabees def. Illinois State University Redbirds 8 to 1
This game turned out to be a game of polar opposites. The Yeshiva Maccabees could do no wrong this morning; while the Illinois State Redbirds couldn't seem to find a way to stop the bleeding early. Yeshiva played a conserved, nearly surgical game scoring 8 times on 20 total shots. All but one player scored at least one point led by Amir Gavarin who scored 4 points in the game.
Oddly enough this was a serious change of pace for the Yeshiva side, who are used to squeezing 3-4 games in one day due to religious obligations. The Maccabees will have 25 hours to recuperate before playing Denver at 8:00 AM Thursday morning.

Northern Arizona University Lumberjacks def. The Ohio State University Buckeyes 4 to 3 (Overtime)
NAU's first year in DII has been all about peaks and valleys, and adjusting to the NCRHA. The Lumberjacks for the first half of the year struggled to stay above the .500 mark. However they are clicking at the right time. Ohio State, determined to build on an impressive season, shot at a high percentage and got strong goaltending from Nate Montgomery. However as they have all year long the Lumberjacks weathered the storm and managed to control the pace of the game. That would not be enough to place them firmly in control.
A Wesley Taylor goal midway through the third allowed Ohio State to push the Lumberjacks from Flagstaff to the edge. However, in under a minute a neutral zone breakdown and great vision from Camden Taylor allowed Trevor Riffey to finish off a wide open backdoor tap in to end the game.

University of Akron Zips def. Stony Brook University Seawolves 6 to 2
Akron and Stony Brook felt as if they had something to prove this week. Both teams faltered at their regional tournament and looked to get back to winning form. The Akron Zips placed high priority on scoring the first goal, which they got from a great solo effort from Mike Smith. Smith, the young freshman, did not show his age; he added 3 more goals and was all over the rink for the Zips.
Justin Corbo and Thomas Palermo both scored for the Stony Brook Seawolves. In the end the scoring woes continued for the Seawolves; as they were only able to push 16 shots Korey Davis' way. Davis rose up to the challenge when tested, Rory Buckley made some timely saves but at the end the day of Smith overcame his Buckley's best efforts.
Other Notes:
University of Arizona Wildcats v. University of Tennessee - Knoxville Volunteers was an absolute shootout on the Mission rink. The Volunteers and the Wildcats traded goals back and forth all game until Jack Mali of the Volunteers scored two in the third to cap off a four point night leading his side to a 7-5 Tennessee victory. Jacob Toro had a hat trick for the Wildcats. This is the third time in three years the Wildcats and Volunteers have met at Nationals.
Oswego, Endicott, Yeshiva, DePaul, Northern Arizona all made their debuts at the national level on Wednesday.
East Carolina was the only team not to score a goal. They were shutout by Chico State 6 to 0.
Division I
There was a definite buzz on the rinks for the premier division. The feeling from most of the fans I spoke to reiterated to me, in some form, that this is "anybody's year". The fans must have had an ear to the ground; because some early scares and an upset, will have a lot of teams scoreboard watching throughout Thursday. Here's some recaps:
University of Missouri St. Louis Tritons def. Neumann University Knights 4 to 1
In what was surely the surprise of day 1, the UMSL Tritons, led by Marky Hager, defeated the Neumann University Knights. The Tritons did not look out of place, and more-so looked determined to carry out their game plan, even though they had an early set back via a Tyler Kraft goal less than a minute and a half into the game.
However, there was no panic to the Tritons game they stuck with a game plan of creating chances in transition and were able to pull away in the third against Neumann's shorter bench. Blake Fruend served as a catalyst in the third period on the 3rd and 4th tallies.
Lindenwood University Lions def. Michigan State University Spartans 3 to 2 (Overtime)
The Michigan State Spartans were feeling great, going into the game coming off of a 7 to 2 thrashing of UC Santa Barbara. The Lindenwood Lions were fresh from battling back to a come from behind 6 to 4 victory over GPCIHL rivals Bethel University.
Lindenwood, on a blink and you would have missed it goal, pulled ahead 2 minutes into the game on a Tyler Watson goal. However, two unanswered goals from the Spartans placed them in the lead. There we remained until a wild third period led to both teams trading near misses and high quality chances. The game progressively got choppier and choppier, and suddenly Lindenwood's Adam Swims, delivered a tying goal with just two minutes to go in regulation.
In overtime, Jalen Krogman kept a rebound alive and won a board battle against Michigan State's Jake Bolyard; before feeding Trenton Matteson with a cross-crease pass. Matteson took a quick low-blocker turnaround shot that beat goalie Tucker Gilliland to claim the late night victory for the Lions.
Arizona State University Sun Devils def. University of Massachusetts - Amherst Minutemen 5 to 4 (Overtime)
The UMass v. Arizona State game was filled with high drama. For example Donnie Brood in the third period broke a skate, came back and scored a game tying goal in the third period to send the Minutemen and the Sun Devils to overtime.
Besides that, Ryan Dougherty had 3 points (1G, 2A) and Wes Fry had 2 goals, including a great redirection tip to win the game in overtime.
The major storyline however, was on the prior play, Braxton Schultz made a pad save which led to a high rebound, which was collected by UMass' Duffy, who had the game on his stick. However, Schultz was able to reach out to his left and make a game preserving glove save. The helter-skelter pace of the matchup led to one the most entertaining games of the day.
Other notes:
The Farmingdale State College - Neumann University game had all the makings of what could be a DI semi-final/final preview. However on the Bauer rink at the same time West Chester University and Cal Poly SLO played a close 4-3 game between the third best teams in the ECRHA and WCRHL
Josh Ward of Western Michigan leads all DI scoring in points (10) and goals scored (6).
The Neumann Knights despite their losses to Farmingdale and UMSL, had to be relieved by the play of Adam Goggio. Goggio made several jaw-dropping saves in both contests and will be looking to lead his team to a rebound win against Grand Valley State.