NAU – WCRHL's Newest Addition
WCRHL
January 29th, 2017 at 2:00PM
January 30th, 2017 11:31PM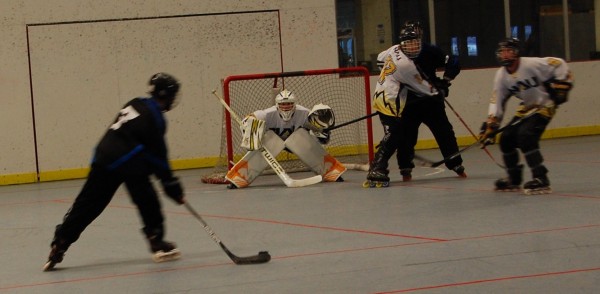 ---
As WCRHL's newest addition, Northern Arizona played their second WCRHL weekend of all time. But the team is not without WCRHL experience. 2 players, Austin Cannon and Trevor Riffey, have collegiate roller hockey experience. Cannon played for the University of Arizona in the 2014-2015 season, playing in 15 games and scoring 9 goals and 4 assists. On Sunday morning, he played against some of his former Wildcat teammates, Jesse Rooney, Dan Holmes, Blake Wofford and Brett Bushnell. Riffey played for Long Beach State from 2012 to 2014, and in 2 seasons scored 27 goals and 15 assists.
The NAU team started off the weekend Saturday morning against CSU Fullerton, where they skated to a 9-0 loss. The team was short-handed, playing without Riffey and without their coach. In the Sunday morning rematch, it was a much different game from Saturday, going down to the wire, ending in a 6-4 win for Fullerton. Scoring started quickly in the 1st, just 38 seconds in, on a goal from Fullerton' s James Lovberg. Northern Arizona scored next, a power play goal by Sam Fleming from Trevor Riffey. In the final 2 minutes of the 1st, Fullerton's Ricky Mays added 2 outstanding goals for the Titans, to take a 3-1 lead into the 1st intermission. Fullerton added another at 5:48 remaining in the 2nd, making it 4-1. NAU battled back, with 2 straight goals, making it 4-3 with 9:31 remaining in the game. Fullerton's Ricky Mays completed his hat trick with 4:49 remaining in the game, going up 5-3. NAU pulled the goaltender early, around the 2 minute mark. The pressure of the 5th man forced Fullerton to take a penalty with 32 seconds left, as a rebound was loose in front of the Fullerton net, and a scramble of 5 or 6 players resulted in a holding penalty for Fullerton. NAU scored just 7 seconds into the power play, from Riffey, his 2nd power play goal of the game. NAU kept the goaltender pulled and Fullerton's Anthony Squirek added the empty netter with 15 seconds left to seal the win.
After the CSU Fullerton game was the NAU/Arizona game, featuring Cannon against his U of A teammates. NAU got up to a 3-0 lead heading into the 1st intermission, thanks in part to 2 power play goals, 1 each from Trevor Riffey and Camden Taylor. In the 2nd period the teams traded goals, and we went into the 3rd period with the score NAU 5, U of A 2. In the 3rd period, Arizona turned it on, scoring 4 goals to NAU's 1, and sending the goal into overtime. In the 3-on-3, 4-minute overtime, both teams played conservatively and had limited chances, but it was Arizona's Jacob Toro, scoring his second goal of the game with 11 seconds remaining in overtime, netting the win for the Wildcats. Other than Toro, 5 different Wildcats scored in the game, while NAU was led by Trevor Riffey (2 goals, 2 assists) and Camden Taylor (1 goal, 2 assists).
In the final game of the weekend, NAU faced UC San Diego. UCSD was coming off of a Saturday night 5-4 win against Cal Poly Pomona, and it was NAU scoring the first 3 goals and then holding the lead the remainder of the game. Final score was 6-4, UCSD's Gary Soeller led the team with 2 goals and NAU got 2 goals a piece from Trevor Riffey, Colin Smith, Austin Cannon, and 1 from Sam Fleming.
NAU will play 6 games in Huntington Beach on Feb. 18-19, 2017, to close out their regular season. Schedule to be posted soon on wcrhl.com.