WCRHL 2016-2017 Kickoff Event in the books!
WCRHL
October 27th, 2016 at 5:24PM
October 27th, 2016 10:38PM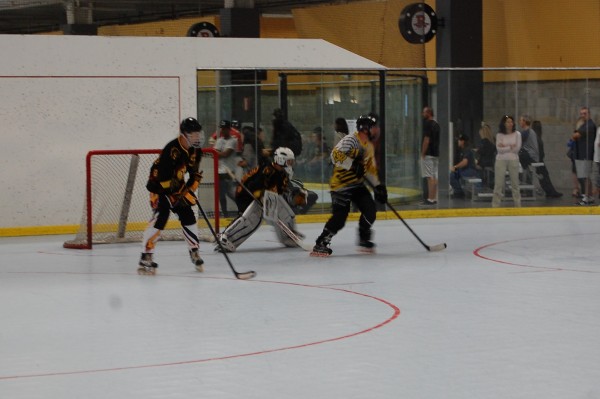 ---
After a successful Saturday, only a few teams remained that could finish the event undefeated. UC Santa Barbara and Cal Poly San Luis Obispo had not lost, nor had CSU Fullerton, and Arizona State's D3 squad.
Arizona State's D3 squad finished off strong, going 4-0 in the event, led by Clay Heinze (brother of WCRHL and ASU alumni Will Heinze) and Zach Kenyon. UC Santa Barbara's D3 squad, finishing at 3-1, with their only loss in their first game of the event to none other than Arizona State, were led by Justin Kirker and Michael Uno. CSU Fullerton finished 2-2 but played stronger than that. CSU Fullerton's D3 squad will undoubtedly be in contention, fighting to get into the top 2 spots.
In Division 2, as expected, it was CSU Fullerton (4-0) and and Chico State (3-1, only loss coming at the hands of CSUF) sitting at the top. But the real story is Cal Poly Pomona, in their 2nd full year back in the league, also going 3-1 on the weekend. Cal Poly Pomona performed the UC Triefecta, defeating UC Irvine, UC Berkeley and UC San Diego. Cal Poly Pomona's only loss was 8-5 against Chico State at 8am Sunday morning.
Division I on Sunday saw UC Santa Barbara emerge undefeated, with the 6-5 win against Cal Poly San Luis Obispo. This game saw UCSB get out to an early 2-0 lead, but Cal Poly tied it up halfway through the 2nd. This was a back and forth battle, that saw the final goal scored by UCSB, for the win, with just 16 seconds remaining in the 3rd. Kevin Mooney had a hat trick for UCSB, with 2 goals and 1 assist from Kyle Clements, and 3 assists from Kyle Mooney. Cal Poly's Matt Fisher had 3 points in the loss, followed by Danny Kumata, who scored Cal Poly's 4th and 5th goal.
West Valley College, the lone Junior College Division team, went 1-3 on the weekend, with a tough Division I schedule. West Valley lost to UCSB in a close one, 4-2, in their first game of the weekend, but had their highlight on Sunday afternoon, defeating Long Beach State by a score of 6-1.
Coming up:
Las Vegas Division I event - November 12 - All 5 Division I teams competing
Huntington Beach event - November 19-20 - All WCRHL teams will be participating, so we will really see how they stack up. University of Arizona's 2 teams will play their first games of the season, as well as USC and newcomer Northern Arizona University. Lindenwood University is also bringing 2 teams out for what will be some great inter-regional matchups.