First day of the WCRHL 2016-2017 season in the books!
WCRHL
October 23rd, 2016 at 11:47AM
October 23rd, 2016 5:33PM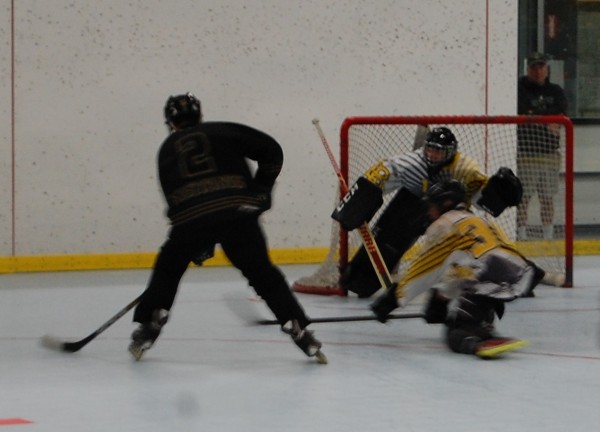 ---
Just one day into the WCRHL 2016-2017 season, we've already seen some great games and witnessed which teams look strong again, made some changes, and landed some freshman talent.
Most notably, Cal Poly San Luis Obispo, after a disappointing 2015-2016 season, has started the season 3-0, with several new players, including goaltender Mitchell Myjak. Returning players Daniel Kumata and Alex Waddel lead the team in goals with 3 a piece, but the rest of the squad is contributing offensively and also playing outstanding defense.
UC Santa Barbara is also 2-0 after day one. The Mooneys are strong and savvy vet Kyle Clements and the rest of the team are turning in a great effort. Goaltender Colin Menz was extremely happy with the team's Saturday performance and good start.
It is too soon to tell, as teams have 1-2 games remaining on the weekend and UNLV will enter the Division 1 action in 3 weeks at the Las Vegas event.
In Division 2, it is CSU Fullerton and Chico State at the top of the standings, followed closely by Cal Poly Pomona. CSU Fullerton and Chico State faced off in their first of 2 meetings this season, and it was CSU Fullerton emerging with the 4-3 victory. Northern Arizona will enter WCRHL action for the first time ever at the Huntington Beach event next month, and University of Arizona and USC will also begin their season at that event.
Arizona State looks strong in Division 3, and all other teams will look to unseat them at this event and the next. The surprise of the weekend is CSU Fullerton's D3 squad with a deep bench and several new players. They sit in 2nd place after the 1st day, going 2-2, defeating both Cal Poly SLO D3 teams and losing to Arizona State and UC Santa Barbara's D3 team, who they are tied for 2nd with.
West Valley College, with their Junior College Division team and Division 4 team, are playing very different schedules, and with different results. The Junior College Division team is playing all 4 Division 1 teams this weekend, which is a very tough schedule. They dropped their 2 Saturday games, but proved in each game that they can skate with the best of them. As the only Junior College team in the WCRHL, this team's season is a preparation for the National Collegiate Roller Hockey Championships, to be held April 5-9, 2017 in Fort Myers, Florida. The Division 4 team went 2-1 on Saturday, outscoring opponents in their first 2 games 13-2, but dropping their late game against UC Davis by a score of 7-3.
Sunday action includes all divisions, from 8am to 3pm, here at Silver Creek Sportsplex in San Jose, CA.
Click here for the event schedule.