Phoenix Recap and Upcoming Chico Event
WCRHL
January 27th, 2016 at 4:47PM
January 27th, 2016 11:04PM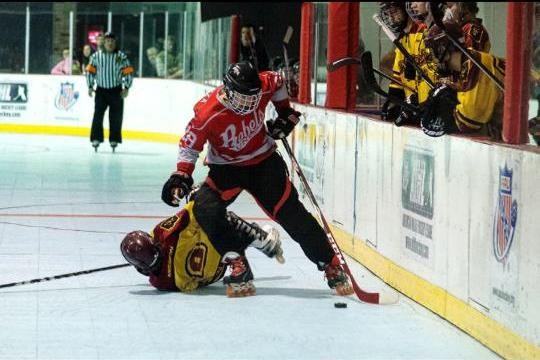 ---
Coming off of a 3-1 weekend, University of Las Vegas leads the WCRHL Division 1 teams, but only by 2 points against #2 Arizona State University. ASU has 1 game in hand and still has the possibility of earning the WCRHL Division 1 regular season title. UNLV's 3-win weekend featured 2 wins against Long Beach State and a split on the double-header against Arizona State.
Arizona State University's D3 Black squad led the 3 D3 teams that were in action this past weekend, posting a 2-0 record, defeating ASU D3 Maroon 5-0, and sneaking by Arizona D3 by a score of 6-5. The ASU Black vs. Arizona game featured Arizona getting up 4-2 at the end of the 1st period, led by a hat trick by Bryan Kromenacker. ASU Black scored 4 out of the next 5 goals, for the 6-5 win. Late penalties by both teams made it interesting, with 2 against ASU in the final minute of play, giving Arizona a 2-man advantage with 12 seconds remaining, and 1 against Arizona with 9 seconds left, taking the face off all the way into their defensive zone and nullifying the power play chance. These 3 teams will meet again in the Tucson event on February 6, 2016.
Coming up this weekend in Hamilton City, CA:
Division 2 - #2 Chico State, the hometown favorite, will face divisional opponents Cal Poly Pomona and UC Berkeley, as well as UC Davis (D4) and West Valley College (JC). Cal Poly Pomona starts their 1st of their 3 events in a row, with 4 of their final 8 games of the season. Cal Poly Pomona has a lot of ground to cover to crack the top 6, but plenty of games to do so. UC Berkeley will need some wins to move up in the standings and stay in playoff contention. Their opponents look tough, the toughest being Chico State and West Valley College. All D2 teams other than Cal Poly Pomona will have a couple weeks off, and be back on Feb. 20-21, 2016 in Huntington Beach, CA.
Division 4 - UC Davis and Sonoma State will face off in a Division 4 double-header, as well as play against Division 2 teams.
Junior College - West Valley College will play in their last games of the regular season.
See you in Chico!