Cal Poly, UC Irvine, Arizona State Maroon bring home the gold!
WCRHL 2014-2015 Regional Championship Tournament is in the books
WCRHL
March 2nd, 2015 at 2:13AM
March 3rd, 2015 4:55AM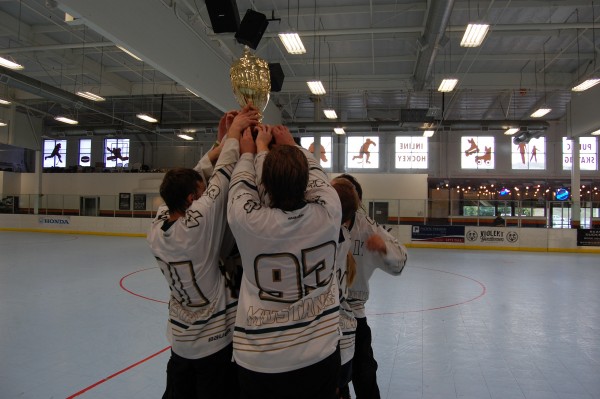 ---
The Western Collegiate Roller Hockey League Regional Championship Tournament was held last weekend, February 28 and March 1, 2015 at The Rinks – Corona Inline, and champions were crowned in 3 divisions. 17 out of 31 games were decided by 2 goals or less, which included all 3 championship games and both Division I semifinal matchups.
Round robin play took up most of Saturday, in which Division I featured 1 pool of 4 teams with 3 games each, and Divisions 2 and 3 with 2 pools of 3 teams with 2 games each. In Division I, after each team had played 2 games, UNLV and Cal Poly were both 2-0 and Long Beach and Arizona State were both 0-2. The 2-0 and 0-2 teams would face off, determining the seeding for the semifinals on Sunday morning. Arizona State defeated Long Beach State by a score of 7-4 for the #3 seed, and Cal Poly defeated UNLV 6-5 in a shootout. In this game, all 10 goals were scored at one end of the rink, with UNLV going up early 3-0, Cal Poly having a huge 2nd period scoring 5 straight goals, and UNLV scoring 2 goals in the 3rd, the final of which was scored with just 42 seconds remaining in the contest. The overtime featured a few good scoring chances, and went into the shootout. The first shootout contestant for UNLV, Andrew Tamura, scored. The only other shooter to score in the 3-round shootout was Alex Waddel from Cal Poly. The shootout extended into the 4th round, being sudden death. UNLV's shooter was stopped by Cal Poly Nicki Reiff, and it was Cal Poly's Chris Kumata scoring on his shootout attempt to win the game and take the #1 seed heading into the semis.
Having the #1 seed didn't seem to work out so well for Cal Poly, as they found themselves down 2-1 against Long Beach State, and Long Beach was forechecking hard, keeping the Cal Poly forwards from breaking out of their zone. With just 1:40 remaining, Cal Poly's Sam Poyer put in a rebound off a Chris Kumata shot that went off the post, to tie the game at 2 and force overtime. In overtime, it was Chris Kumata just over 2 minutes in that would score on a delayed penalty, for the 3-2 win and the right to play in the Division I Championship Game.
In the semifinal matchup between #2 seed UNLV and #3 seed Arizona State, it was the opposite. The offense started immediately, as the teams traded goals in the 1st minute of the game. It would continue that way throughout the game, as the score was 3-3 at the end of the 1st period, 5-5 after the 2nd, and the 6th Arizona State goal netted with 10:34 to go in the 3rd. UNLV would continue to attack and have some good chances, but Arizona State fended them off and took the 6-5 win and would face Cal Poly in the championship game. Austin Shannon had 3 goals for UNLV and Ryan Doyle had 2 goals for Arizona State.
The Division I Championship Game started off with #1 seed Cal Poly scoring just 1:06 into the game, followed by 2 more goals in the 1st, ending that period up 3-0. Cal Poly would still lead 4-1 at the end of the 2nd, but Arizona State would get within 1 on 2 separate occasions in the 2nd and 3rd periods. An empty net goal by Ryan Newens with 1:01 remaining would cement the Cal Poly victory, the first in 10 years, when Cal Poly defeated CSU San Bernardino for the title in the 2003-2004 season.
Thanks to Mission Bauer Hockey, the WCRHL awarded Most Valuable Goaltender and Most Valuable Player in each division. Cal Poly's Nicki Reiff was awarded MVG and Cal Poly's Christ Kumata was awarded MVP honors. Nicki led the division in wins (5-0) and GAA (3.00). Chris led the division in goals (7) and finished with 11 points overall. Both contributed heavily throughout the tournament, but specifically in the semifinal and championship games.
In Division II, a 3-way tie was reached in Pool A, with UCSD, Arizona and USD all going 1-1 in round robin. UCSD would earn a bye to the semifinals, due to the goal differential tiebreaker. In Pool B, it was #5 seed UC Santa Cruz upsetting #3 Chico State that would determine the seeding. UC Irvine finished first, earning their bye to the semis, with UC Santa Cruz in 2nd and Chico State in 3rd. This would set up quarterfinal matchups on Saturday evening with Arizona facing Chico State and University of San Diego facing UC Santa Cruz.
Both UC Santa Cruz and Chico State would advance into the semifinals, but by 1 goal each, each winning by a score of 4-3. In the semifinals, UC Santa Cruz would knock off #1 seed UC San Diego by a score of 7-4, led by Kyle Karazissis (4 goals, 1 assist). UC Irvine would continue their unbeaten streak, defeating Chico State by a score of 6-0. Both Andy Trinh and Scott Rottman had 2 goals and 1 assist in the win, while UCI's Brandon Burger earned 1 of only 3 shutouts on the weekend, the only shutout in Divisions 1 or 2.
The Division 2 Championship Game then featured UC Santa Cruz and UC Irvine (the Banana Slugs and Anteaters). At the end of the 1st period, the score was tied 1-1. The score would never slant too far one direction, but the 2nd period did feature 6 goals, 3 by each team. We would enter the final stanza with the score tied 4-4. In the 3rd period, UC Santa Cruz scored with 2:04 remaining with a goal from Kyle Karazissis, looking to put UC Santa Cruz into the winners circle. However, just 16 seconds later, UC Irvine's Isaac Magness scored, to knot the game at 5. Overtime saw two competitive teams trade chances, even in the first 30 seconds. It was in the 40th second of the overtime that UC Irvine's Andy Trinh scored the game-winner, to earn UC Irvine their first Division 2 Championship.
UC Irvine's Andy Trinh earned Most Valuable Player honors, while UCI's Brandon Burger was named the Most Valuable Goaltender. Trinh led UC Irvine with 6 goals and 4 assists, while Burger led all Division 2 goaltenders with 4 wins, a 2.50 GAA, an 88.2% save percentage, and the only Division 2 shutout.
In Division 3 play this weekend, the team making waves early was UC Santa Barbara, the #4 seed, in a pool with #1 Arizona State Black and #6 UC Irvine. UCSB started early with an 18-2 win against UC Irvine, followed by a 5-2 win against #1 ASU Black. Pool B teams would finish in a 3-way tie with 1 win and 1 loss each, with the tie-breaker going to Arizona. Arizona and UCSB earned the byes to the semifinals, while ASU Black faced off against ASU Maroon, and Cal Poly Gold faced off against UC Irvine. Cal Poly Gold defeated Irvine, and it was ASU Maroon defeating ASU Black by a score of 4-2.
The Division 3 semifinal games were also held on Saturday evening, with UCSB taking on rival Cal Poly Gold, and Arizona State Maroon taking on rival Arizona. ASU Maroon defeated Arizona 8-2, while Cal Poly Gold defeated UCSB 5-1.
In the Division 3 Championship Game on Sunday morning, Cal Poly Gold faced Arizona State Maroon. Cal Poly struck first, just 3:25 into the game with a goal from Tyler Horton. ASU Maroon answered with a goal from Jordan Hessler (his first of 2), to end the 1st tied at 1. In the 2nd, it was ASU Maroon scoring 3 goals to Cal Poly Gold's 1, that sent them into the 3rd feeling confident. The teams traded goals in the 3rd, Cal Poly's being first and cutting the lead to 1, but the last being an empty net goal by Arizona State Maroon's Andy Andreoli (1 goal, 3 assists), to earn the title by a score of 5-3. This marks the 3rd straight season that the Arizona State program has won the Division 3 Championship.
The Division 3 Most Valuable Player honors went to ASU Maroon's Andy Andreoli, who had 1 goal and 3 assists in the championship game and 3 goals and 5 assists overall. The Most Valuable Goaltender was ASU Maroon's Eddie Cini, who finished with 4 wins, a GAA of 2.50 and Save % of 87.3%.
Photos of the event have been posted on the WCRHL's Facebook page: http://www.facebook.com/wcrhl
Bids to the National Collegiate Roller Hockey Championships will be determined and posted on Selection Monday, which will be Monday, March 9, 2015. Bids will be posted by division,between 6pm and 9pm Pacific, on www.ncrha.org.