All-American Cody Hennings
WCRHL
September 24th, 2014 at 10:08PM
September 24th, 2014 10:16PM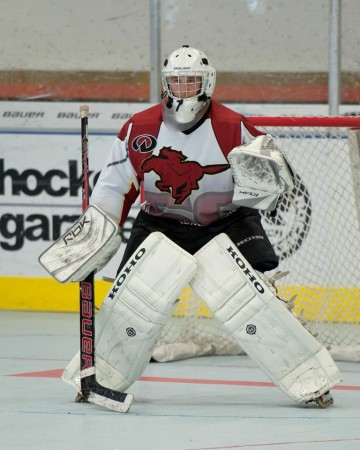 ---
Cody Hennings' first hockey experience was at a local YMCA outdoor rink, where there was no need for a net minder. This was because the nets were filled by a canvas backdrop with a few holes cut in it and a picture of a goalie. However, Cody still found himself standing in the crease standing in front of shots and making the big glove saves. After a few more seasons of playing the other positions on the rink, Cody finally committed his days to the net. What drew him to the position, he could not say for sure. But what he can say about the goalie position after so many games in the net is that goalies play a different game altogether.
Playing goalie for the Mission Viejo High School team was some of his favorite, most memorable hockey ever played. They were lucky enough to win an IHF Championship. Despite enrolling at Saddleback in a transition time for the team, often struggling to field 2 lines, he still had great experiences and met long lasting friends.
In his 2 seasons at Saddleback, Cody played in 23 regular season games, with a record of 10-13, in a very competitive WCRHL, where the Junior Colleges played much of their schedule against Division I teams.
Cody is currently enrolled at Humboldt State University in Northern California, pursuing a degree in Environmental Engineering. The WCRHL and NCRHA wish Cody all the best in his academic endeavors.