Tucson hosts WCRHL event
3 California Division II teams visit Tucson to play host University of Arizona
WCRHL
January 27th, 2014 at 6:02AM
January 27th, 2014 6:10AM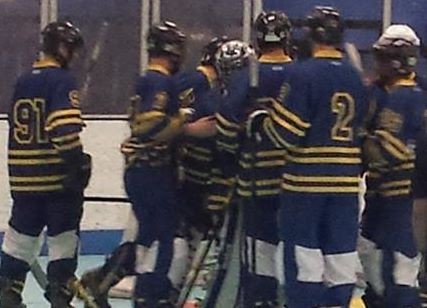 ---
The University of Arizona Wildcats (WCRHL Division II) hosted their first of hopefully many events at their home rink, Tucson Indoor Sports. Three WCRHL clubs made the trip to Southern Arizona to play the Wildcats; UC San Diego, USC, and UC Irvine.
USC and UCI would play 3 games a piece while UCSD and U of A would each play 4.
The morning started out with #2 and #3 UCSD and U of A battling in an 8am match up. U of A used their home rink advantage of knowing their rink (slightly smaller floor than normal) and pressured every possession UCSD had to end the first period with a 3-2 lead. That one goal lead would prove tough to take away as U of A would answer back for every goal UCSD managed to put in. The game would end with a solid 5-4 win for the home team Wildcats.
USC and UCI were the second match up of the morning, USC arrived into town with a skeleton crew (4 and goalie) that would make up their entire roster for the weekend. A much larger and energized UCI would take advantage of the gassed USC bench scoring 7 goals in the first period. USC would hold them to only 1 goal in the 2nd period, but the lockdown D didn't last into the 3rd as UCI would put in 3 more to end the game 11-0.
Game 3 brought U of A and UCSD back for a rematch only an hour after their last meeting. This time around UCSD was ready with a more disciplined squad and a revamped strategy to make the smaller rink work to their advantage. UCSD's Kevin Zhang would put the first goal in for them early in the 1st. U of A would answer back on a Power Play goal a few minutes later. UCSD's Zhang would return the favor less than a minute later to end the period 2-1. Zhang wouldn't stop there though, he would find the back of the net twice more in the 2nd period bringing his goal tally to four. Neither team would score again as the game was a back and forth odd man rush battle. Both squads managed to put another goal in during the 3rd but this time around UCSD would come out the clean victor with a solid 5-2 win.
After a one hour rink break featuring a youth clinic put on by the U of A players, an already winded USC met up with UCSD for a game that would end up much like their first with UCSD putting on a puck possession clinic scoring 11 goals to end the game 11-0. A strong UCSD would be tough with a full roster but playing them with only 4 guys is a tough hill to climb.
Coming into this weekend, UCI sat one spot below U of A in the regular season standings, with 4 more games played. Both teams have 5 wins (U of A with 0 losses and UCI with 4). If the 5th game of the day is any indication, Irvine shouldn't be overlooked, especially by U of A. UCI came out hard scoring 2 goals in the first period and forcing U of A to chase them up and down the rink. First period shots were 12 for UCI and 6 for U of A, that ratio would ring true throughout the 2nd and 3rd as well, forcing Freshman Goalie Brett Bushnell to do the lion's share of the work in the defensive zone. After hitting nothing but posts through the 1st, U of A finally found some net in the 2nd scoring a Power Play goal, followed shortly after by an even strength goal to tie it up. UCI would notch one more with a little over a minute left in the 2nd to end the period with a one goal lead. The 3rd period was as gritty as it gets with both teams battling hard on every rush and forechecking ever harder on every turnover. UCI put a nice play together with just under seven minutes left in the 3rd to go up by two, making it their game to win. U of A's Jesse Rooney had tried numerous times throughout the game to come in hard on his backhand and force a shot through to no avail until he finally squeaked one through with that same move at 8:39, putting U of A back in the game. Rooney would find the net again at 4:11 with another pretty one. 8 seconds later U of A's John Inman would come powering down the side boards and fire a BOMB that would go off the bar and land behind UCI's Brandon Burger. That fifth goal would be all U of A needed to come back and steal the game from UCI. The final shot count at the buzzer saw UCI outshoot U of A 40-17.
The only thing worse than having to play three 12-minute stop time periods with 4 players, is having to do it three times in 8 hours. That's the task set out for USC as they played their 3rd game of the day. U of A didn't hold back taking shot after shot at an extremely exhausted Nicholas Doder. Doder held U of A to only 3 goals in the 1st. The flood gates would open up in the 2nd as U of A would sail 5 past him. Benjamin Cohn would put the lone USC goal of the weekend in on U of A's Bushnell in the 2nd to get on the board. The 3rd period was more of the same until mid-way through the period when a collision between of U of A player and Doder would sideline the goalie. Both teams decided to let that be the game and things wrapped up with a 10-1 end.
Saving the best game for last , UCI and UCSD would finish out the day. Both teams play a similar mix of slow and controlled mixed with fast run and gun and this game showed exactly that. At the end of the first period these two evenly matched teams were only a goal apart with UCI holding the 2-1 lead with both teams seeing an equal 12 shots. UCSD came out strong in the second putting on more pressure and taking their time a bit more with their possessions. The change in play paid off with for them with the solo 2nd period goal. The intensity kept up the rest of the period ending with a scrum in the offensive end boards for UCSB that led to an unfortunate roughing penalty for Logan Monje. UCI took their time on the PP and finally got one past by UCSD's Ryan Corriveau to go up 3-2. Going into the 3rd it was a gritty back and forth that saw both goalies and defensemen blocking equal amounts of shots as neither team wanted to let anything in their net. Still feeling the sting for the lead they let slip away in the 3rd against U of A earlier in the day, UCI was not about to give an inch. A pulled goalie and a flurry of shots by UCSD would prove to not be enough as UCI threw bodies and sticks in every lane to hold the lead. The game would end 3-2 and UCI would go home with their second win of the day.
If this day's D2 play showed us anything it's that these # 2,3, and 4 teams (UCI, UCSD, and UofA) are very evenly matched and can best each other on any given day. The three of them will need to get past division leader Cal State Fulerton to make it count at Regionals but none of them should be counted out!