Division I Race Tighter Than Ever
UCSB's Schneider earns 1st Division I shutout; The story behind the Long Beach cowboy hat
WCRHL
November 19th, 2013 at 1:42AM
November 19th, 2013 4:44AM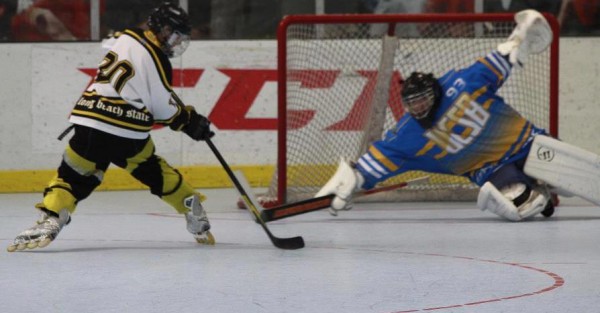 ---
In a 3-0 win Sunday morning, UC Santa Barbara goaltender Brandon Schneider posted his first career Division I shutout, and the only time in 3 events this season that a Division I team has been held scoreless. Schneider turned away 26 shots in the effort and stated how difficult it was to post a shutout against another WCRHL Division I team. With a 2-2 weekend, featuring double headers against both Cal Poly and Long Beach State, UC Santa Barbara currently sits in 3rd place, tied with Arizona State, and behind Cal Poly and UNLV. And to show how tight the Division I standings are at this point in the season, 5th place Long Beach State sits just 4 points away from UCSB/ASU.
Cal Poly went 3-1 on the weekend, putting them in a tie for 1st place with UNLV, just 1 point above the 3rd and 4th place teams UCSB and Long Beach. The 1st two games for Cal Poly went into overtime, and hopes for the 1st Division I shootout were dashed early, with Cal Poly scoring just 48 seconds into the UCSB game and 2:22 into the Long Beach game.
Long Beach's 2-1-1 record is keeping them in this tight race towards the Division I post-season. The cowboy hat was in full effect, in it's 2nd event to date. The cowboy hat is given as player of the game honors, to the player who played the best overall game, and is awarded by the previous winner. The winner gives a short acceptance speech and then wears the event all day long until the next game. Garrick Langer, Tyler Estes and Shin Yamamoto were awarded the hat, with the 4th hat winner to be determined.
Cal Poly, UC Santa Barbara and Arizona State head to Colorado springs next weekend, to face off in an Inter-Regional Event against Lindenwood University (reigning Division I National Champion), University of Colorado – Colorado Springs (reigning Division II National Champion, recently made the jump to Division I), Colorado State University, as well as Lindenwood B Gold (reigning B Division National Champion). Lindenwood and UCCS enter the event undefeated in their respective geographies, while Lindenwood B Gold has just 1 loss, against St.Charles Community College.